"Shall the moon shine lightly by day, and brightly by night "♥Moonheart♥

MoonHeart
Vital statistics
Real Name
Mizuki
Aliases
(unknown)
Gender
Female
Species
Human/Moon
Status
16 year old
Alignment
(unknown)
Likes
Pie, Shopping, Partying, Kicking evil's butt
Dislikes
Bad hair days, Getting defeated by villains, gymmnastics
Place of Origin
Florida, Moon
Residence
{{{residence}}}
Relationships
Relatives
Jenny (sister)

Silver (god brother) Star (cousin)

Allies
.....
Enemies
BlackHeart

Sishooters

Affiliations
Tween Titans

Dark Stars

Powers & Abilities
Powers
Shoots moon rays, Teleports, Floats, Super Sound Voice
Weaknesses
Morning Light
Equipment
{{{Weapons and Artifacts}}}
Others
First Appearance
Teen Titans: Dark Stars
Main
MoonHeart was a normal girl, until she went to her father's spacestation. She was accidentally sent to the moon. She was bitten by a strange insect on the moon. When she returned, her family and her was reunited, but she had decided to move in with her best friend, Silver, soon after she had been recruited with the tween titans. Her name, Mizuki, means beautiful and moon in japanese.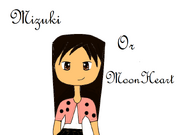 Relationships
MoonHeart has no boyfriend or anything of that kind.
Star
MoonHeart's 2nd best friendstar
Silver
Silver is MoonHeart's best friend. She lives with him and his family since she got her powers.
Home
Dark Stars Building