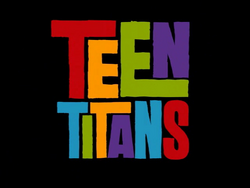 Teen Titans (FanFic Seasons) is a fanfiction story, a continuation of the original animated series, following their adventures as a much larger team of teenage superheroes.
Picking up five years after the end of the original series, the Titans have now become celebrities thanks to their growing ranks and international crimefighting exploits. But their expansion has now made them the target of major league supervillains and criminal empires, who wish to bring them down before they become as much a organized nuisance as the "Justice League".
No matter what new threats these teenage heroes encounter, they'll never stop till the job gets done. They'll prove you don't have to be an adult to bring justice upon evil villains, or save countless lives.
TEEN TITANS...GO!!!!
The Titans

Titans East (Steel City, Pennsylvania)
Tempest
Bumblebee
Arsenal
Mas y Menos
Tramm
Secret
Molecule
Titans North (Alaska)
Red Star
Kole
Gnarrk
Killowat
Mirage
Young Frankenstein
Titans South (Florida)
Pantha
Wildebeest
Hot Spot
Jericho
Herald
Solstice
Aqualad (Jackson Hyde)
Titans Central (Central City, Missouri)
Kid Flash
Super Girl
Green Lantern (Kyle Rayner)
Blue Beetle
Miss Martian
Ravager
Speedy
Titans Pacific (Honolulu)
Thunder
Lightning
Flamebird
Nightrider
Zachary Zatara
Aquagirl
Hawk and Dove
Titans Redemption
Bushido
Jinx
Terra (Clone)
See-More
XL Terrestrial
Kyd Wykkd
Joker's Daughter
Osiris
Episodes
Season Six
Slade and Elizabeth Alderman
Independence

 

Recidivism

Tomorrow

Full House

Trial of the Century

The Third Rail

 (Part 1)

Out of the Frying Pan

(Part 2)
The Blade of the Demon (Part 3)
Re-Construction (Part 4)
Season Seven
Ebon
Fusion

Property
Animal Kingdom

The House of El, Part II

Noel
Season Eight
Blackfire and Sinestro
In Blackest Day 
In Brightest Night 
Who Wants to Be a Titan? 
Heroes' Welcome 
Main Objective 
Therapy
Double Indemnity
Double Indemnity, Part II
Reconstruction
The Lodge 
Fight or Flight 
Bloodpact 
All Quiet on the Homefront 
Yellow Journalism
Nursery Rhymes
Royale 
Semper Fi 
Vengeance
Vengeance, Part II 
Vengeance, Part III 
Season Nine
Sons of Trigon, Brother Blood, and the Fearsome Five
Sibling Rivalry
Hellspawns
Valentine
As Above, So Below
Fearsome
Unleashed
Sentinels
If You Build It...
Fanplasmagoria
Shall We Gather at the River?
Shall We Gather at the River? Part II
Always Darkest...
Sleeper Cell
Thicker than Water
Rift
Make 'Em Laugh
...Just Before the Dawn
In Absentia Lucis (Part I)
Tenebrae Vincunt (Part II)
An unexplained phenomena occurs in Jump City, that links two universe together. When robots come and begin attacking, along with a blabbermouth psychopath, the Teen Titans learn of a "mutant threat" that exists in the other universe. The team decides to seek it out and stop it before it crosses over. The Titans soon found the threat, they come face-to-face with....the X-MEN.
Now villains on both sides wish to utilize this phenomena to their advantage, by also criss-crossing between universes. With the Teen Titans and the X-Men busy fighting each other, who'll notice? To better ask, who will win?
Based on the most acclaimed comic-book crossover ever, this is TEEN TITANS vs the X-MEN!
Season Ten
Doctor Light's Secret Society of Super Villains
Requiescat in Pace
Memory Bank
Erosion
The Ties That Bind
Villains United
Villains United, Part II
Villains United, Part III
Villains United, Part IV
Reckoning
Hocus Pocus
Group Therapy
The Lines are Drawn...
The Die is Cast...
What You Leave Behind
The Battle of Metropolis
The Battle of Metropolis, Part II
The Battle of Metropolis, Part III
The Battle of Metropolis, Part IV
The Battle of Metropolis, Part V
The Battle of Metropolis, Part VI
The Battle of Metropolis, Part VII
Made to Suffer
Season Eleven
The Wildebeest
Landslide
Unstoppable
Hunted
Hunted, Part II
Hunted, Part III
Plausible Deniability
Outer Limits
Mobilization
Paradise Lost
Season Twelve